My mission (the BIG WHY, I do what I do) is help people experience the effects that small changes with eating, exercise, and sleep patterns will have on
#1) quality of your life – having high energy throughout the day, living pain free, disease free;
#2) the quantity of your life – how long we live on this earth and
#3) how gracefully and independently we age – being able to walk freely and perform simply activities of daily life without assistance.
My Struggle and Denial…
My wake-up call was in my early 30s (~2002) and during this time, I was living my best life – so I thought.  My blood pressure was elevated at each doctors visit. Eventually, I was tagged with "Pre-Hypertension" and advised to lose at least 20 lbs and limit sodium intake.
I walked to my car in total disbelief. For the first time, I walked out of a doctor's office scared and confused.  I was without a plan and determined NOT to get on medications and more than that, I was prideful. On top of that, I was in denial that I was at my highest weight and needed to lose some extra pounds.
Going At It Alone…
I researched and tried to figure out how to lower my blood pressure and lose weight. Another two years pass with my own efforts. Still my blood pressure was elevated and zero weight loss!
The Trigger to Finally Get Help…
Still in my early 30s, I visited a dialysis center. I learned that years of uncontrolled high blood pressure could led to kidney failure. Seeing people hooked up to machines to drain their blood and learning this was necessary 3 times per week had a very profound effect on me. Honestly, it terrified me.
At that moment, I realized I was playing with my own life being prideful. I sought help from a Registered Dietitian. My life was forever changed!
My Setback…
With the help of a Registered Dietitian, my eat habits were improved and the weight finally came off. I lost 20 lb in 3 months.  With all the lifestyle change, my blood pressure was still high.
I felt defeated and was angry. So angry, that I said "What was the point of changing how I ate and losing weight! I might as well eat what I what!"
I was officially diagnosed with Essential Hypertension  (No known cause) and started on a low dose medication.
After months of feeling like I failed, the LORD spoke to me:
"Had I not made those changes to my eating habits. Had I not lost the weight; I would have more health problems than just my blood pressure. I was heading down a slippery slope of health problems and did not know it."
I truly believe the denial, challenges and changes were God's way of showing me a different direction for my life.
At that moment, I stopped looking at my diagnosis as a setback
My Comeback…
I began to view my 2 year battle as a blessing that ultimately saved my life.  The course of my life changed and my private battle happened to serve as a testimony for other to take action a lot sooner than I did!
The process of researching, trying to get my BP under control, and finally losing weight with the help of a Registered Dietitian were all the catalysts that lead me to go back to school, on Faith,  after 15 years to earn a 2nd Bachelors in Dietetics.
Why??? So that I could do God's will by accurately informing people of the best way to eat to increase their energy levels, lose the weight, keep it off, and build a healthy body from the inside out.
What I Learned On My Journey…
I will never forget how I felt walking out of the doctor's office after being tagged with "Pre-Hypertension" and not wanting others to experience getting a cookie cutter 'plan of care' to lose weight and change eating habits by cutting down or out certain foods without no real direction on HOW to do it
(That is one of the biggest frustrations I have is when people are newly diagnosed with a chronic disease like DM of High Chol or told they are pre-diabetic, pre-hypertensive, or cholesterol levels are rising – with no guidance, support, or even a referral to a dietitian to get help)
This leads to my second "Ah Ha" moment…
Witnessing the number of people following misguided information to lose weight quickly or to get control of a health condition – unknowingly putting their own life at risk for other problems because the focus is solely on weight or the specific health scare rather than the total body
My Life Now…
I've maintained the 20-25 lb loss since 2004!  During that time, I got married in 2011 and our son was born in 2014 (significant events in life that cause many to gain weight)
HOW DID I DO IT???
By giving myself permission to eat
Not beating myself up when I overindulged
Sticking to a 5 lb gain window before reeling myself back in!
I have the pleasure of doing what I LOVE which is:
Helping people who are struggling with either losing weight plus keeping it off
Helping people manage one or more health conditions
Helping people to prevent medical condition(s), but just don't know best way to do that will work for them
If I can do it, so can you!
I just had to get out of my head and accept guided support to help bring real and long-lasting change.
Since 2004, I've made gradual changes and adjustments based on the ebbs and flows of life. For this reason, I have lifestyle habits for life.
Am I perfect, of course not.
Do I ever get off course, definitely!  That's life.
Sandra Recommends
I am excited to open registration for my Newly Updated for 2021 Group Nutrition, Weight Loss, and Total Body Wellness Program  called "Body Reboot Blueprint" begins January 28th at 7:30 PM! It's not too late to grab your spot and take advantage of the early bird special.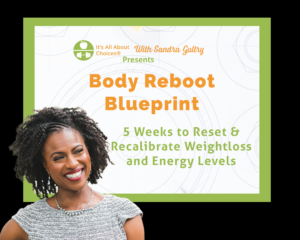 This hands-on comprehensive group program is designed to "Reset & Recalibrate" mindset, energy levels, weight loss, and immune system. This program is designed to set the path for becoming 'nutritionally fit' so that you feel better, improve health outcomes, and keep you motivated to reach your longer-term weight, health and wellness goals.
Click HERE to grab your spot!