01 Oct

5 Easy Ways to Cut Back on Salt (Part 5 of 5)

Welcome to "Food is Medicine" by Its All About Choices.  The theme for October is "Sodium" – Is Sodium Making you Fat?

Many people intake 3 times the amount of sodium needed by the body daily. It's not just about using the salt shaker when cooking. It's not just about the food tasting salty.

Studies have shown that cutting back on salt can lower blood pressure in people with and without high blood pressure, according to a statement from the American Heart Association.

The recommended daily allowance for sodium is 2,300 mg for healthy individuals. This number is lower for those with heart disease and/or history of high blood pressure.
Tip #5 Forgo Fast Food
I saved the BEST for last!
Eating at fast-food chains may be fast and cheap, but you pay the price in calories, fat, and sodium. Many fast-food items are VERY high in sodium. This is why weight loss and eating out 5-6 times per week don't mix. The following items, at a few top chains, topped the sodium scale:
Just know that casual restaurants and fine dining are not much better!
Jack in the Box
Bacon Ultimate Cheeseburger: 2,040 milligrams sodium
Chipotle Chicken Ciabatta with Grilled Chicken: 1,850 milligrams\
Wendy's
Homestyle Chicken Strips (3) with dipping sauce: 1,690-1,890 milligrams sodium, depending on sauce
Roasted Turkey & Swiss Frescata Sandwich: 1,520 milligrams
McDonald's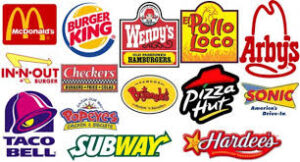 Deluxe Breakfast: 1,920 milligrams sodium
Premium Grilled Chicken Club Sandwich: 1,690 milligrams
Big Breakfast: 1,470 milligrams
Sausage, Egg, & Cheese McGriddle: 1,300 milligrams
The FDA is mandating that restaurants lower the sodium content of their menu items due to the increase in chronic diseases!