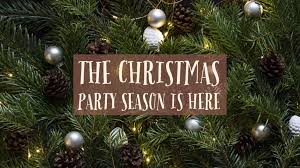 02 Dec

Staying on Track While Enjoying More Holiday Parties – Part II

Thanksgiving is behind us. Let's reflect. Here are a few questions
Do you feel you over indulged (felt stuffed) on Thanksgiving day?
Do you feel you over indulged (just ate too much over several days) on Leftovers days later?
Are you still eating left overs almost a week later?
What would you like to change when you pull up to the table on Christmas Day?
Teachable Moments
Don't have regrets or beat yourself up. We all must 'fall' sometimes in order to get stronger. Setbacks are opportunities to comeback strong. Sometimes, its not even a setback – Curiosity just got the best of you and the thought of "I won't have this again until next year."
Whatever situation you fall in, its OKAY. Simply reflect and come up with a plan to still enjoy yourself and eat well without 'feeling some kinda way' hours later or the next day.
Holiday Party Tips (at the big meal on the day)
There are usually more holiday parties in December leading up to Christmas than Thanksgiving.  It's all about mindset and how you view holiday events and food. Many make the mistake of giving the event and food more power than it deserves.  For example, you receive an invitation to a holiday party that is known for having food and alcohol galore.  As you reply 'yes' to the RSVP – your mind has already shifted to "I'm gonna enjoy myself – this is my cheat day and I'm going all in!"
Summary
Give yourself permission to enjoy! Don't make the event more than what it is. Recognize that overeating is normal in these situation. The goal is to not get stuffed!
PS: Never attend a holiday event or meal hungry!
Photos by: storm-djs.com, ticketbud.com