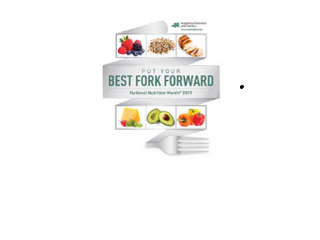 01 Mar

March IS National Nutrition Month

"Put Your Best Fork Forward" is the theme for NNM 2017 which serves as a reminder that each one of us holds the tool to make healthier food choices. Making small changes during National Nutrition Month® and over time, helps improve health now and into the future.
Eat Right for Your Lifestyle
There's no one diet that is right for everyone.
Three principles for achieving a Total Body Diet Lifestyle that can help lead you to renewed energy, balance and a healthy body weight:
• Balance your diet with foods from all food groups to sustain health, energy, and well-being.
• Get active every day with exercise YOU enjoy.
• Keep a positive attitude. Your mind plays a large role in your health and your relationship to what and how you eat and drink.